Main page
---
Model Creator is a simple and easy to understand 3D modeling program, designed to create 3D models you can use in Game Maker. The program saves the models using the Game Maker format, so they can be loaded directly into your game using the function d3d_model_load. Model Creator is made with Game Maker, I used Max WinAPI 2 (a DLL created by Hobbel) to create Windows dialogs.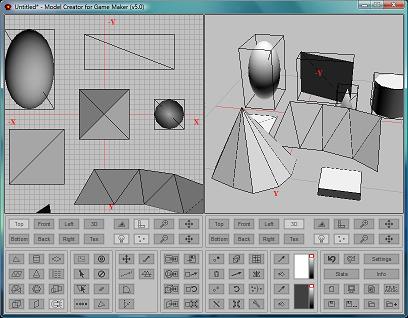 A screenshot of the main window of Model Creator
---
Download Model Creator
Model Creator is completely free. No credits are required. If you want to give credits anyway, just write something like "Models made with Model Creator" or show a link to this page.
If you want to make a download link, please link to this page.
Latest version:
Download Model Creator v5.0 (1.80MB)
Latest version (source):
Download Model Creator v5.0 source code (GM7 GMK) (418KB)
---
License
Model Creator v5 by Maarten Baert is licensed under a Creative Commons Attribution-Share Alike 2.0 Belgium License.
This means:
You are free:

to Share — to copy, distribute and transmit the work

to Remix — to adapt the work

Under the following conditions:

Attribution — You must attribute the work in the manner specified by the author or licensor (but not in any way that suggests that they endorse you or your use of the work).

Share Alike — If you alter, transform, or build upon this work, you may distribute the resulting work only under the same or similar license to this one.
If you want to redistribute the original or a modified version of Model Creator v5, you must include my name (Maarten Baert) and a link to this page (http://www.maartenbaert.be/model-creator/).
---
Useful links