The model menu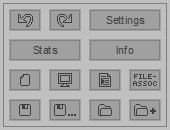 Undo, redo
Undoes or redoes the last action. You can undo up to 20 actions.
Change model settings
Changes the model settings. These settings are saved with the model file. More information about model settings can be found here.
Show model stats
Shows how many objects the model consists of, and how many objects are in the selection.
About Model Creator
Shows information about Model Creator and credits.
New model
Starts a new model.
Preview model
Previews the current model, showing how it will look in Game Maker (with normals and everything).
Generate GML code
Generates the GML code required to load/create the current model.
Change file association settings
Here you can set if you want .gmmod files to be opened with Model Creator automatically or not.
Save current model
Saves the model.
Save current model in a different file
Saves the model using a different filename (aka 'save as').
Load a model file
Loads another model from a file.
Import another model
Loads another model from a file and adds it to the current model ('paste from').
---
Comments
There are no comments yet.