SpiroNet Patch 13 dB
---
I did not disassemble this one, but based on this photo it seems to be a 2x2 array of circularly polarized patches. The design seems sensible.
There is one inherent weakness to all 2x2 arrays of circularly polarized antennas: they can get a very good axial ratio right in the center of their radiation pattern, but the axial ratio degrades very rapidly as you rotate the antenna slightly. My anechoic chamber measurements confirm this. Helicals don't have this issue.
VNA measurements
| | |
| --- | --- |
| | Matching is decent. |
Anechoic chamber measurements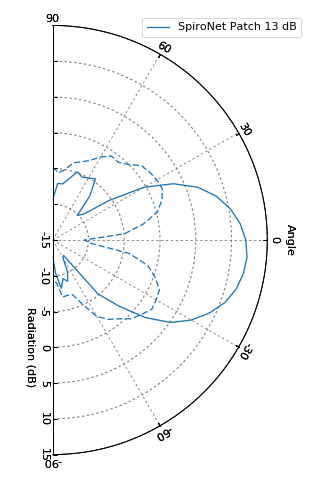 The solid line is the correct polarization, the dashed line is the opposite polarization. Peak gain is roughly 12.5 dB which matches the spec reasonably well. The main lobe is not perfectly centered though. Also, while the axial ratio is great in the center, it degrades rapidly, and above 30-40 degrees the polarization actually reverses.
---
Comments
There are no comments yet.